SAMSON: Live At Reading '81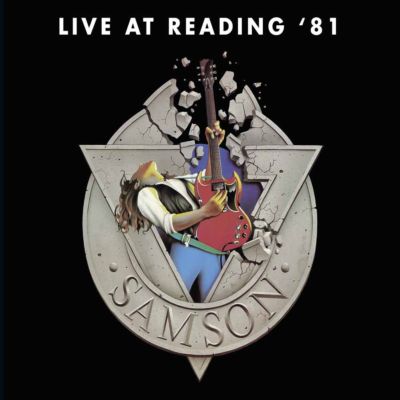 Potrei fare una recensione e parlare di quanto è stato importante questo disco live per i Samson, perchè è l'ultima testimonianza dal vivo per Bruce dickinson prima di entrare negli Iron Maiden, perchè è la prima apparizione di Mel Gaynor con la band, prima di diventare il percuotipelli dei Simple Minds, perchè doveva essere il definitivo trampolino di lancio di una band che girava a mille nonostante l'abbandono del pazzo Thunderstick, al fianco di gente come Gillan, Trust e Rose Tattoo nel Festival più importante dell'epoca e non solo, invece questa esibizione infuocata con un Bruce fenomenale e con Paul che si godeva il momento dimostrandosi per l'ennesima un chitarrista dal gusto eccellente, che venne registrata per il programma della BBC "The Friday Rock Show", rimase poi nel cassetto fino al 1990 quando venne pubblicata come secondo album live, sfruttando la popolarità di Dickinson per cercare di risollevare le sorti della band, oramai in netto declino, sia perchè più nessuno rimaneva dei membri originali escluso Paul - se ne era andato persino il fido Nicky Moore - sia perchè il songwriting latitava paurosamente, sia perchè il ciclone grunge si stava abbattendo furiosamente sulle deserte spiagge della NWOBHM. Quindi, già il tentativo era discutibile ai tempi, figuriamoci adesso che la Dissonance si sta prendendo la briga di ristampare gli album di Paul e soci, per cui non parlerò bene di quest'opera di scoperchiamento di una tomba ammuffita, non parlerò dei brani contenuti perchè li conosciamo già, non è interessante sviolinare quanto fossero bravi i Samson dei primi tre album dal vivo, piuttosto mi chiedo, cara Dissonance, che significato ha ripubblicare un disco inutile e non ripubblicarne invece uno fondamentale come 'Head On', ossia il secondo album dei Samson, uscito fra 'Survivors' e 'Shock Tactics'? Proprio non riesco a capire, probabilmente l'etichetta dell'Oxfordshire lo pubblicherà in seguito, forse ci sono problemi a recuperare i diritti di pubblicazione dell'album, ma resta il fatto che nell'opera di recupero della discografia Samsoniana, la ripubblicazione di questo live non serve a coprire la mancanza di 'Head On', quindi pollice verso stavolta cara Dissonance, nell'attesa che vi cospargiate il capo di cenere e inginocchiandovi sui ceci, corriate ai ripari al più presto...

MANY DESKTOP PUBLISHING PACKAGES AND WEB PAGE EDITORS NOW USE
Reviewed by
Admin
on
Jan 6
.
L'Amourita serves up traditional wood-fired Neapolitan-style pizza, brought to your table promptly and without fuss. An ideal neighborhood pizza joint.
Rating: