REQUIEM OF DESTRUCTION FEST: Seconda edizione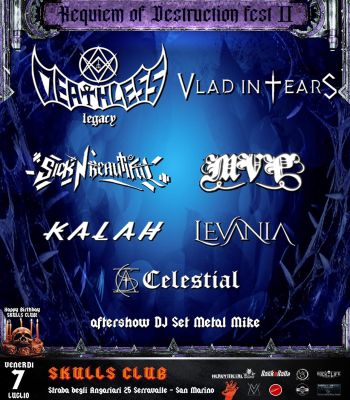 𝐑𝐞𝐪𝐮𝐢𝐞𝐦 𝐎𝐟 𝐃𝐞𝐬𝐭𝐫𝐮𝐜𝐭𝐢𝐨𝐧 𝐅𝐞𝐬𝐭 𝐈𝐈 (𝐎𝐩𝐞𝐧 𝐀𝐢𝐫) arriva alla sua seconda edizione, e oggi 7 luglio 2023 trova mistura perfetta nel combaciare con il compleanno dello Skulls Club di San Marino. Quest'anno ha ospitato ben sette band con un biglietto d'ingresso di € 25.00 e prezzi calmierati al banco delle birre. Uno stand autonomo che pensava alla cena, tavoli e un palco tutto nuovo, rialzato e con un impianto migliorato. L'atmosfera dello Skulls Club è di quelle familiari che mette subito l'ospite a proprio agio e lo fa immediatamente sentire in mezzo a fratelli e sorelle.
L'idea alla base della seconda edizione di questo festival nasce dalla mente e dall'esperienza del direttore artistico dello Skulls Club, Michele Vasi, che respira l'aria di quest'ambiente da diversi anni ed ha convocato questa sera le seguenti band:
headliner della serata: 𝐃𝐞𝐚𝐭𝐡𝐥𝐞𝐬𝐬 𝐋𝐞𝐠𝐚𝐜𝐲 (https://www.facebook.com/Deathlessmetal), band horror metal italiana, attiva ormai da svariati anni e con alle spalle numerosi successi nazionali e internazionali, reduci da poco dal 70000 Tons Of Metal ed in giro per la penisola, e non solo, ancora in promozione di 'Mater Larvarum', l'ultimo loro album uscito via Scarlet Records a dicembre 2022;
i 𝐕𝐥𝐚𝐝 𝐈𝐧 𝐓𝐞𝐚𝐫𝐬 (https://www.facebook.com/vladintearsofficial), band dark/gothic che direttamente da Berlino torna in patria per farci ascoltare alcuni dei loro brani più classici e per farci assaggiare 'Porpora', l'ultimo lavoro in studio uscito lo scorso settembre per Metaville Records;
i "𝐒𝐢𝐜𝐤 𝐧 𝐁𝐞𝐚𝐮𝐭𝐢𝐟𝐮𝐥" (https://www.facebook.com/sicknbeautifulband), realtà romana attiva dal 2014, militante sotto il filone dell'Industrial metal e con uno show audiovisivo tutt'altro che ordinario. Reduci adesso da un tour inglese con South Of Salem e Tarah Who?
Gli 𝐌𝐕𝐏 (https://linktr.ee/MvpOfficialBand), che tra power, symphonic e progressive metal, presentano il nuovo lavoro 'The Salem's Gates', e che come di prassi, durante i loro show, proiettano il film che spiega la genesi del progetto.
Insieme a loro i 𝐋𝐞𝐯𝐚𝐧𝐢𝐚 (https://www.facebook.com/search/top/?q=levania), band gothic metalcore romagnola, con quattro dischi all'attivo, i 𝐊𝐚𝐥𝐚𝐡 (https://www.facebook.com/Kalah.band), band electronic modern metal di Bologna attiva dal 2020, ed i 𝐂𝐞𝐥𝐞𝐬𝐭𝐢𝐚𝐥 (https://www.instagram.com/celestial_official_/), realtà emergente symphonic progressive metal di Rimini.
Insomma, sette band unite dall'amore e dalla dedizione al metal e nel contempo tutte differenti le une dalle altre, che insieme hanno contribuito a regalarci un altro super evento estivo da non perdersi anche nelle prossime edizioni.
MANY DESKTOP PUBLISHING PACKAGES AND WEB PAGE EDITORS NOW USE
Reviewed by
Admin
on
Jan 6
.
L'Amourita serves up traditional wood-fired Neapolitan-style pizza, brought to your table promptly and without fuss. An ideal neighborhood pizza joint.
Rating: