METAL CHURCH: Metal Church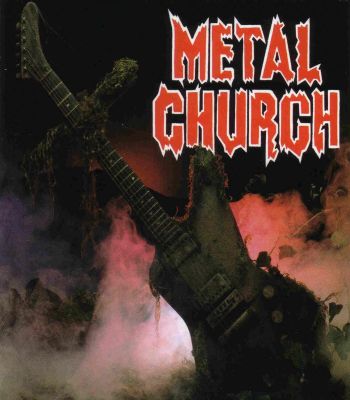 Sono stati incisi tanti grandi dischi, innumerevoli top album, lavori che indiscutibilmente hanno fatto la storia e/o influenzato le generazioni successive che hanno ricevuto entusiastiche, ma quanto classiche recensioni. Considerato che si tratta dei "biggest records", (biggest perchè "grande" in tutti i sensi), abbiamo pensato bene di dare loro la giusta visibilità e la dovuta dimensione con speciali che provano a scavare in fondo fin dentro le viscere dei contenuti degli album.
Cosa ci si aspetterebbe da un band col monicker Metal Church, e da una copertina come quella del loro disco omonimo d'esordio? Funesto, ferale, oscuro heavy metal. Etichetta, quest'ultima, che calza stretta perché il quintetto convoglia più sottogeneri verso un'unica corposa, densa soluzione musicale. Infatti, si riscontrano prime avvisaglie sia power, sia thrash, innestate come meglio non si potrebbe su una base di metal classico, il tutto imperniato su un sound lugubre e liriche che evocano morte, guerre, e la labilità psichica dell'uomo in genere. Le tonsille di David Wayne fanno da cantore, cronista e poi spettatore dell'instabilità e dell'efferatezza della mente umana. La sua timbrica è di quelle che squarciano il petto, urlatrice e cavernosa, crudele ed ossessiva, fidato braccio di nostra Sorella Mietitrice. L'altro è quello di Kurdt Vanderhoof, il fondatore del culto, l'ideatore, il fustigatore che a colpi d'ascia mortifica i miscredenti.
The war is over
The crypt we now taste
In the late 1900's, there is no human race
We split the planet with atomic birth
Man has died
We seal the urn.
E' l'inizio. Il biglietto da visita dei Metal Church. E già non c'è più speranza. Per nessuno. E' anche l'inizio della monumentale e drammatica "Beyond The Black", uno spettro che si aggira nei campi di battaglia dopo la fine del conflitto che narra l'accaduto, cinico fin quasi a godere dell'orrore che si presenta a suoi occhi. Ma è anche il preludio alla leggendaria "Metal Church", che accoglie lo spettro e lo erge a sacerdote della congregazione. Un mid-tempo mortale che inneggia al luogo del rito dove:
Many, many years ago on a distant shore
Men did gather secretly beyond a hidden door
They travelled long and travelled far
Dark into the night
Yes, this is the place they've chosen
To build the Metal site.
Infatti, non c'è spazio né per nessun Dio, né per la pietà in "Gods Of Wrath", ma solo per l'ira, e l'unica alternativa è la chiesa del metallo. Così via fino alla conclusione con "Battalions", un feroce attacco finale che non lascia scampo, ma solo corpi inermi e martoriati distesi sul terreno. Un classico purpleiano chiude l'opera tutta, rivisitata a proprio modo e trasformata in una killer song spietata, tanto per restare in tema. Cosa aspetti ancora, tu, ascoltatore? Unisciti alla causa, now the story starts again, all the time is lost, Metal Church begins anew...Saving souls that are lost.
P 1985 Elektra Records
Tracklist:
01. Beyond The Black
02. Metal Church
03. Merciless Onslaught
04. Gods Of Wrath
05. Hitman
06. In The Blood
07. (My Favorite) Nightmare
08. Battalions
09. Higway Star
Line-up:
Kurt Vanderhoof: Guitars
Craig Wells: Guitars
David Wayne: Vocals
Duke Erickson: Bass
Kirk Arringeton: Drums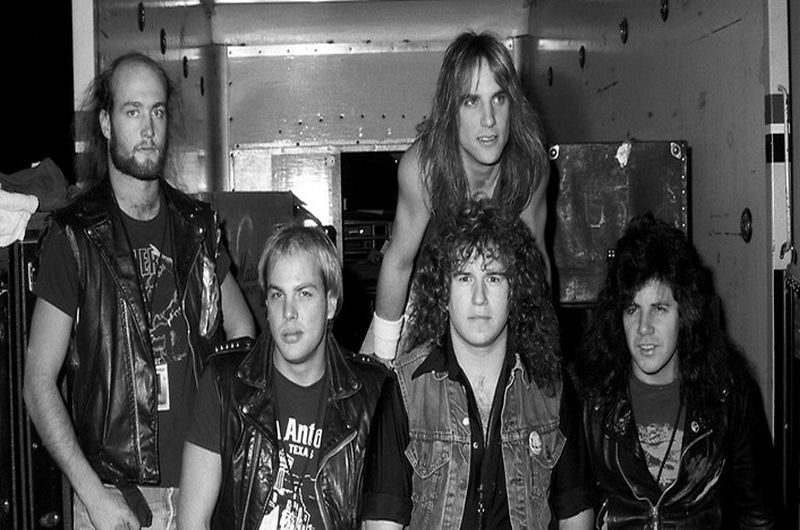 MANY DESKTOP PUBLISHING PACKAGES AND WEB PAGE EDITORS NOW USE
Reviewed by
Admin
on
Jan 6
.
L'Amourita serves up traditional wood-fired Neapolitan-style pizza, brought to your table promptly and without fuss. An ideal neighborhood pizza joint.
Rating: