SANCTUARY: Into The Mirror Black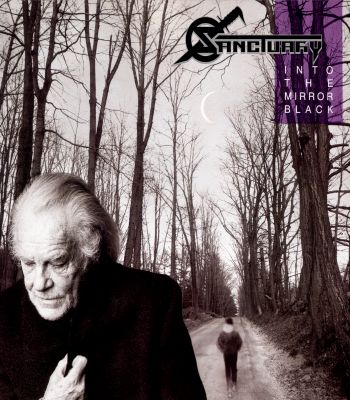 Sono stati incisi tanti grandi dischi, innumerevoli top album, lavori che indiscutibilmente hanno fatto la storia e/o influenzato le generazioni successive che hanno ricevuto entusiastiche, ma quanto classiche recensioni. Considerato che si tratta dei "biggest records", (biggest perchè "grande" in tutti i sensi), abbiamo pensato bene di dare loro la giusta visibilità e la dovuta dimensione con speciali che provano a scavare in fondo fin dentro le viscere dei contenuti degli album.
Non ho mai amato particolarmente le ristampe celebrative dei grandi dischi del passato, le ho sempre considerate speculazioni commerciali destinate a quei pochi che ancora comprano dischi e che, nella maggior parte dei casi, nella loro collezione hanno già la versione originale. Parlo con cognizione di causa, perchè io sono uno di quelli. Devo però ammettere che ci sono delle eccezioni come questa riedizione di 'Into the Mirror Black', capolavoro indiscusso dei Sanctuary che compie 30 anni. All'epoca la band del compianto Warrel Dane rappresentava una delle punte di diamante di quel movimento di metal "raffinato" capitanato dagli immensi Queensryche e Fates Warning, seguiti da band "minori" e meno fortunate come Crimson Glory e, appunto, Sanctuary. Inutile negarlo, oggi questo disco risulta un pò datato ed è improbabile che nel 2020 possa conquistare nuovi fans (anche se lo spero!), perchè alcune release avevano senso nell'esatto istante in cui sono uscite. Nonostante questo, mi ha emozionato riascoltare un album che fu così importante per me quando ero ragazzino e apprezzare nuovamente l'incredibile talento di questi 5 ragazzi di Seattle. La vera chicca di questa ristampa è in realtà il bonus cd che immortala un incredibile live del 1990 (non è dato sapere dove sia stato registrato). Una prestazione maiuscola di tutta la band, con un Warrel Dane in stato di grazia (purtroppo negli anni successivi, per problemi legati all'alcol, le sue esibizioni non sono state sempre all'altezza) e una resa sonora pazzesca. Inoltre nella setlist sono presenti alcuni memorabili brani estratti dal loro iconico esordio discografico "Refuge Denied", come "Battle Angels" e la cover della celebre "White Rabbit" dei Jefferson Airplane. I Sanctuary avrebbero meritato molto più di quello che hanno ottenuto, anche alla luce della loro reunion che ha partorito buoni album come 'The Year the Sun Died' del 2014 e 'Inception' del 2017. Oggi la band esiste ancora e speriamo possa proseguire il suo cammino, anche se appare davvero proibitivo sostituire l'immenso Warrel Dane (riposi in pace) e il granitico Jim Sheppard al basso.
P 1990-2020 Century Media
Tracklist:
DISC 1:
01. Future Tense
02. Taste Revenge
03. Long Since Dark
04. Epitaph
05. Eden Lies Obscured
06. The Mirror Black
07. Seasons of Destruction
08. One More Murder
09. Communion
10. Future Tense (Demo 1989)
11. I Am Insane (Demo 1989)
12. Mirror Black (Demo 1989)
DISC 2:
01. Eden Lies Obscured (Live 1990)
02. Seasons of Destruction (Live 1990)
03. Die For My Sins (Live 1990)
04. Future Tense (Live 1990)
05. White Rabbit (Live 1990)
06. Taste Revenge (Live 1990)
07. Long Since Dark (Live 1990)
08. Sanctuary (Live 1990)
09. One More Murder (Live 1990)
10. Battle Angels (Live 1990)
Line-up:
Warrel Dane - Vocals
Lenny Rutledge - Guitars
Sean Blosl - Guitars
Jim Sheppard - Bass
Dave Budbill – Drums
MANY DESKTOP PUBLISHING PACKAGES AND WEB PAGE EDITORS NOW USE
Reviewed by
Admin
on
Jan 6
.
L'Amourita serves up traditional wood-fired Neapolitan-style pizza, brought to your table promptly and without fuss. An ideal neighborhood pizza joint.
Rating: